Proposal for a 28th Amendment? Is it Possible to Amend an Unequal System? is an iterative participatory installation made in collaboration with Tali Keren that was initially on view at the Queens Museum. This evolving work critically examines the U.S. Constitution through listening, recording, and intervening. Central to the installation are sonic soapbox sculptures that build upon the history of the soapbox as a site of collective struggle while emphasizing listening, mutuality, and access. These sculptures emit a growing oral archive of responses to the project's questions recorded by past visitors using the installation's recording booth. Videos depict the hands of legal scholars as they unpack, mark up, and redact the U.S. Constitution in relation to systemic racism, labor, the prison industrial complex, climate justice, and the difficulties of amending.

The installation is activated through public workshops organized with local community partners and legal scholars. Collaborators for the Queens iteration included Malikah; Guardians of Flushing Bay; New New Yorkers; Queens Teens; Dream Defenders; CUNY Law Professors Charisa Kiyô Smith, Julia Hernandez, Rebecca Bratspies, and Cindy SooHoo; Harry Wallace, Lawyer and Chief of the Unkechaug Indian Nation; lawyer and scholar Derecka Purnell; and activist and scholar nyle fort.
These gatherings bring people together to collectively consider, question, and debate systemic repair, radical change, and abolition to imagine more equitable futures.

The installation was featured as a segment on WNYC's The Brian Lehrer Show. Listen here.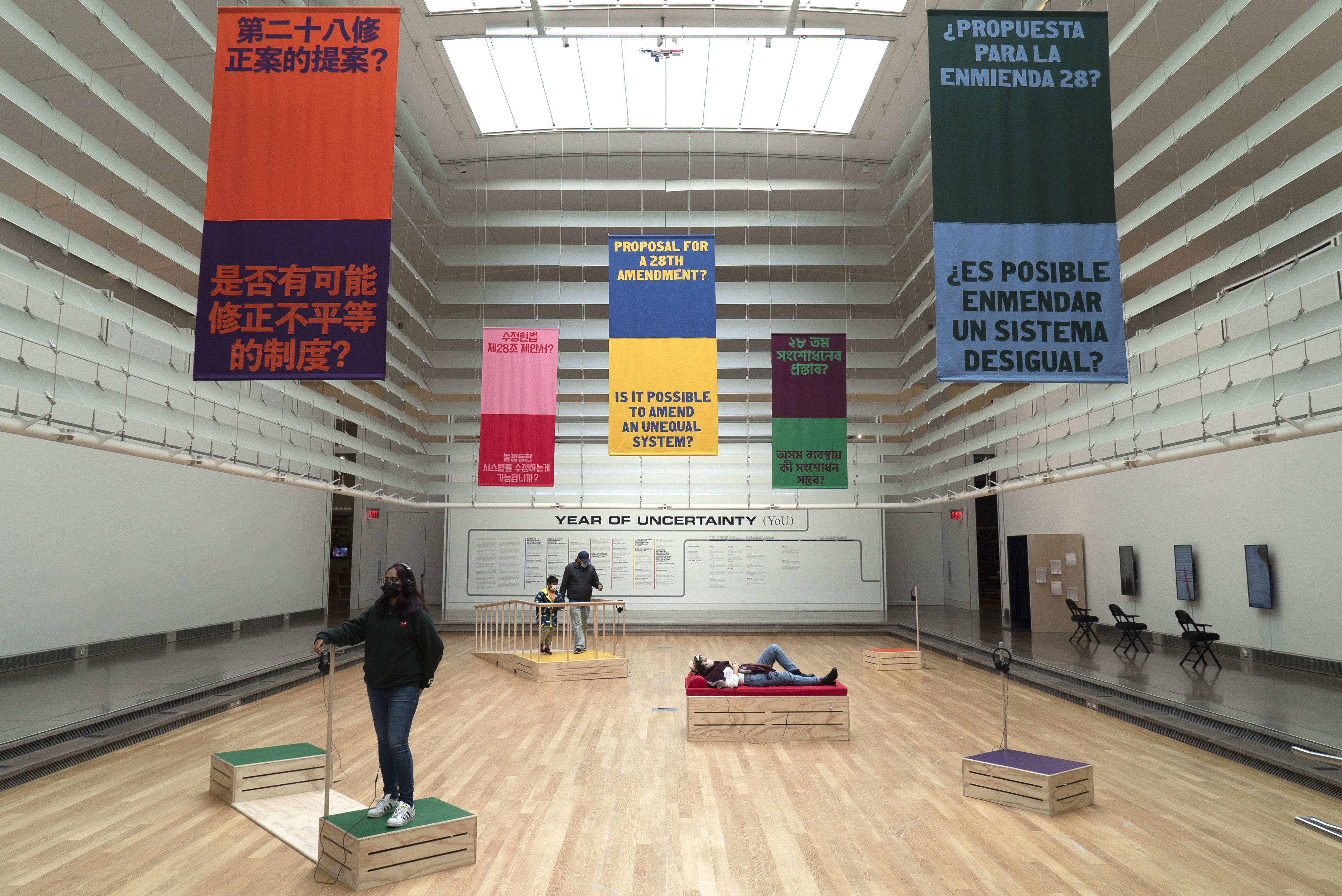 Proposal for a 28th Amendment? Is it Possible to Amend an Unequal System?,
collaboration with Tali Keren, 2021-ongoing (Queens iteration 2021-2022), participatory installation with sonic soapbox sculptures, recording booth, evolving oral archive, six 4K videos, and five 60x120" canvas banners, Queens Museum, Flushing, NY
---
Call to Care: Protecting Flushing Creek through the Rights of Nature focused on environmental protection through tools and perspectives offered by Indigenous Lawyer Chief Harry Wallace and CUNY Law Professor Rebecca Bratspies. The presentations on Indigenous epistemologies of nature and New York's new environmental Constitutional Amendment were followed by group letter writing to NY Governor Hochul. Planned in collaboration with Guardians of Flushing Bay and artist Tecumseh Cesar.
Teen Power: Political Futures is a two-part workshop organized with the Queens Teens and CUNY Law Professor Charisa Kiyô Smith. The first gathering consisted of a lecture and discussion with Professor Smit on the rights and impacts of minors and what it means for the voting age to be 18, given existential threats like the climate emergency. Students were then invited to spend a week recording audio interviews using the project's questions in their respective communities. We reconvened for a listening session a week later, and these recordings became a permanent feature of the soapbox soundtrack.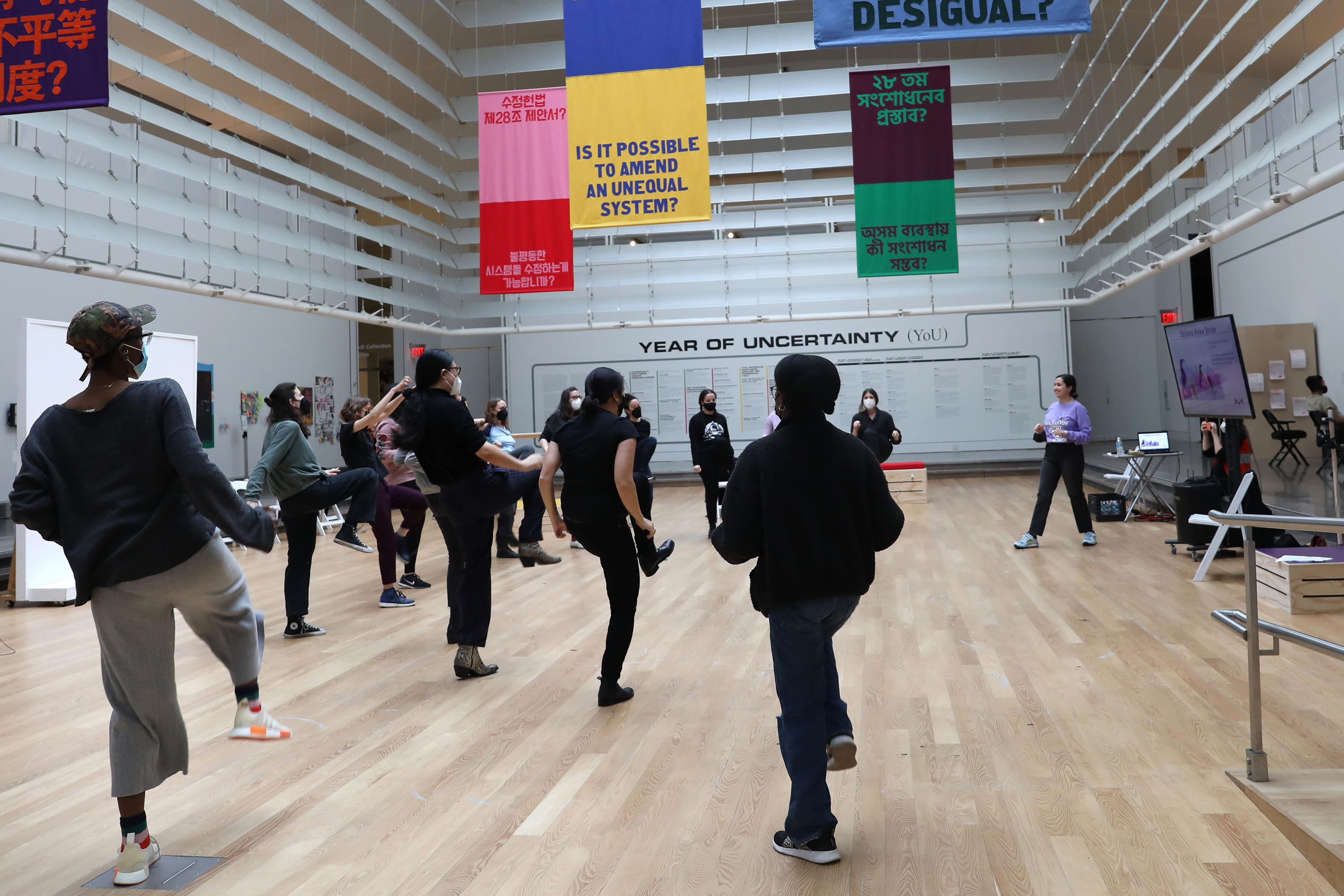 Defending our Bodily Autonomy in a Broken System: Reproductive Justice, Self-Defense, and Community Care workshop with CUNY Law Professor Cindy SooHoo and Malikah
Defending our Bodily Autonomy in a Broken System is a workshop with CUNY legal scholar Cindy SooHoo and Deena HadHoud of Malikah. The program consisted of a lecture with Professor SooHoo focused on the inadequacies of legal protection for reproductive rights, the precarity of Roe vs. Wade (at the time), and what it would take for all people to experience reproductive justice. This was followed by a hands-on self-defense class for women and gender-expansive people led by Deena Hadhoud in the body of the installation.





We the People?//Nosotrx La Gente? is a workshop with the New New Yorkers and CUNY Law Professor Julia Hernandez. This Spanish/English bilingual event focused on the exclusionary history of the Constitution and offered space for participants to creatively intervene within the document through writing, recording, and performance prompts.